If you are facing a criminal charge in the greater Phoenix area, whether it's a misdemeanor or a serious felony, you need an experienced criminal defense attorney at your side.  At the Law Offices of David A. Black, we represent clients charged with a wide range of offenses, including DUI, drug offenses, violent crimes, and others.  We have successfully represented attorneys, teachers, doctors, law enforcement, professional athletes, and more.  Nobody is beyond getting caught up in the criminal justice system.  Let us help you untangle the web.  Call today.
Experience is Key
There are numerous characteristics that you want and expect in your criminal lawyer.  Integrity, intelligence and an unfailing devotion to his clients are paramount.  But those traits alone are not enough – you need a lawyer with significant experience defending clients charged with crimes.  And that is exactly what David Black has been doing for the past five years.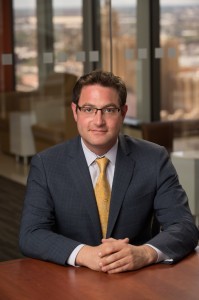 Before entering private practice, Mr. Black served as a prosecutor in the Maricopa County Distric Attorney's Office as a prosecutor for the Maricopa County District Attorney.  That experience allowed him the unique opportunity to see first-hand how the prosecutors put their cases together, how they assemble their evidence, and how they formulate charges against criminal defendants.  By seeing the process from the inside, Mr. Black gained significant insight that allowed him to learn how to spot weaknesses in the prosecution's case; what to do in cases in which the prosecutor inflates the charges against his client; and how best to secure a dismissal or a reduction in charges.
A veteran of the criminal justice system, David is also a veteran trial attorney, including numerous jury trials.  The fact is that in some cases, the best alternative for a client is to proceed to trial, and if that is the case, Mr. Black will move forward unafraid.  At all times, the essential principal is that every one of his clients is innocent until proven guilty beyond a reasonable doubt.
What are Mr. Black's Areas of Practice?
At the Law Offices of David A. Black, we represent clients charged with an array of criminal charges.  The following is a sampling of the kinds of cases we handle:
DUI
More and more people each year are charged with driving under the influence.  But not all DUI cases are the same.  In the case of alleged alcohol impairment, your blood alcohol content (BAC) can make a major difference in both the charges against you and in the penalties you face.  Moreover, while the penalties for DUI are similar, and in some cases the same, whether alcohol or drugs are involved, the evidence that the prosecutor will seek to introduce in order to try to convict you will be markedly different.  Additional variables are underage DUI, DUI with a child passenger, DUI causing injury, and aggravated DUI, among others.
Drug Crimes
The range of drug offenses in Arizona is substantial.  They extend from possession of a small quantity of, for example, marijuana, to trafficking in and selling large quantities of drugs.  The penalties, if you are convicted, could be as minor as a fine and probation, but might be as serious as years in state prison.  In addition to the various penalties and activities related to drugs, the charges in your case will turn on the particular drug involved.  The laws in Arizona are complex in this regard.  Certain drugs are given special treatment under the statutes (methamphetamine, for example).  And others are grouped in categories such as dangerous drugs, narcotic drugs, and prescription-only drugs.  You need an attorney who knows the difference.
Domestic Violence
Arrests for alleged domestic violence are on the increase.  If you are the subject of a domestic violence call to the police, and there is an allegation, true or not, that violence or the threat of violence was involved, there will be an arrest.  And because the police are under pressure to separate the individuals as quickly as possible, they often arrest the wrong person.  Many domestic violence cases are "he said, she said" situations, where it is the statements by the participants, as opposed to any physical evidence, that may be used to try to convict you.  An experienced Phoenix domestic violence lawyer is your best protection against a wrongful conviction.
Violent Crimes
The range of violent crimes is substantial. Among them are simple assault (perhaps the most common violent crime), aggravated assault, sex crimes, robbery (sometimes considered a theft crime), stalking, harassment, extortion, terrorism, street gang crimes, gun crimes, homicide, and others. Punishments likewise range from fines and probation, to years behind bars and even the death penalty.
White Collar
This category of crimes includes non-violent offenses, most of which involve theft, fraud and similar behavior.  They range from tax evasion, to money laundering, to embezzlement, credit card fraud, business and commercial fraud, insurance fraud, government fraud (including welfare fraud), bribery, obstruction, perjury, false swearing, forgery and others.
Minors
Those under the age of 21 can get themselves into all kinds of trouble with the law. Some of the consequences can affect their future. Alcohol use is an element in numerous offenses involving minors. These offenses include some involving alcohol, such as minor in possession, and underage drinking and driving, as well as charges such as theft, assault, and others. The rules involving minors are different than those involving adults. We understand how to handle these cases in a way that will minimize the damage to the child's future.
Call David Black now 480-280-8028
Theft
Theft charges range from shoplifting, to felony theft, to passing bad checks, to embezzlement, among others. Both the charges and the potential penalties if you are convicted will depend upon the nature of the alleged theft, the value of the property involved, and other factors. In this area, as in so many others, it pays to have a former prosecutor on your side.
These are just some of the categories of crimes within Mr. Black's areas of expertise.  His legal services are available to both In-State and Out-of-State defendants.
Why Choose Former Prosecutor David A. Black as your Criminal Defense Attorney?
Read More
The truth is that anyone who has passed the Bar and is admitted into practice can defend you against a criminal charge.  But those qualifications alone mean very little when it comes to protecting your future, your livelihood, and your entire way of life.  This is no time to settle for anything but the very best.
So just how do you go about choosing the right lawyer for your case?  There are certain essentials to look for as you go through this process:
Experience – As we mentioned above, experience is one of the key ingredients for a successful defense.  You simply do not graduate from law school, take on a client charged with a criminal offense, and have the wherewithal to provide that client with an excellent defense.  That comes with time.  In Mr. Black's case, years spent as a prosecutor, in a large criminal defense firm and in his own practice has allowed him to hone his skills to the point where he has gained a reputation as a skilled criminal attorney.
Adherence to Principles – At the Law Offices of David A. Black, as the client, you come first.  Mr. Black is a straight shooter who will always present an accurate and honest appraisal of your case.  You will be kept informed every step of the way.  And you will be the recipient of Mr. Black's unwavering commitment to do whatever is within his power to assist in your case and provide you with the best possible results.  At the core of this commitment is our adherence to the principle that every client is innocent until proven guilty beyond a reasonable doubt.
Compassion – At our firm, you will always be treated with dignity and respect.  We understand what you are going through, and how the pendency of a criminal charge can affect your life and that of your family.  We are here to help.
Where Do I Begin with my Case?
Our clients come to us with a myriad of legal problems, whether they involve a DUI or another charge or charges. Often, the mere existence of the charges takes its toll on our clients and on their friends and family members.  We know that you want to try to get through this ordeal and get your life back on track as quickly and as painlessly as possible.  It is therefore with your welfare in mind that we conduct a thorough investigation and determine what we believe to be the best course of action in your case.  We then present you with a cogent defense strategy, which includes a review of the likelihood of a dismissal, a reduction in charges, or, where necessary, the possible outcomes if we proceed to trial with the aim of obtaining a verdict of not guilty.
Given the severity of the penalties which you face if you are convicted, the question is not whether you can afford to hire an experienced and reputable attorney – rather, the question is whether you can afford not to do so.  Retaining the services of a top criminal defense lawyer represents your best chance of obtaining a positive outcome in your case.
Every one of our clients receives the personalized attention he or she deserves.  And we never waver from our standard of excellent and hard work. With your freedom on the line, don't settle for anything less. Our ability to analyze your criminal case from both angles – that of the prosecution and that of the defense – is one of the things makes us unique. We never lose sight of the evidence when negotiating on your behalf, advising you of your rights, and, if necessary, taking your case to trial.
Defending Criminal Charges in Phoenix, Arizona
We know you have questions, and the answers are just a phone call away. Contact the Law Offices of David A. Black today and allow us to begin working on your case.

June 2, 2014