[column width="1/1″ last="true" title="" title_type="single" animation="none" implicit="true"]
Just hours ago, the City of Phoenix, the Phoenix Prosecutor's Office and the State of Arizona dismissed almost two dozen cases against Occupy Phoenix protesters.
In applying for the dismissals, which were granted without objection by the judge this morning, a number of statements were made by the prosecutor that indicate an unusual and unprecedented showing of tolerance toward political demonstrators and political demonstrations. The state's application included the following statements:
"[T]he State has no intention of limiting anyone's constitutional rights."
"This country was founded on protest."
"Protest is part of the fabric of our nation."
"[J]ustice was served by dismissal of the charge(s) . . ."
The application went on to mention Paul Revere, Samuel Adams, and the Boston Tea Party, which crystalized protests in Colonial America against British laws that amounted to taxation without representation.
As one of the core of private defense attorneys who volunteered to represent the protestors free of charge, this Phoenix criminal lawyer applauds not only the result in the case, but the actions of the prosecutor's office, which showed solidarity with all of us who actively participated in representing the protestors.
We also shouldn't forget about the dozens of people who pled guilty to charges – people who were punished for the same thing The Phoenix 20 were exonerated from. Several of the 20 protestors are unhappy with the wording of the State's motion, as it specifically mentions limitations to protesting on public property after certain hours.
You can see our previous coverage of Occupy Phoenix on our blog and elsewhere on the web.
UPDATE! Download a PDF file of the letter here.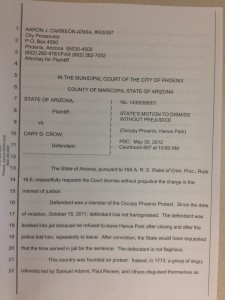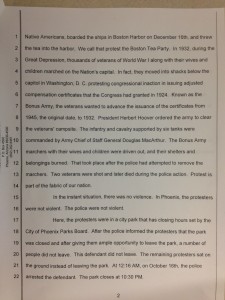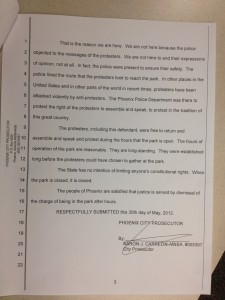 Law Offices of David A. Black
40 North Central Avenue #1850
Phoenix, AZ 85004
(480) 280-8028
[/column]